Miriam Delicado, Princess Kaoru Nakamaru & Kerry Cassidy (Los Angeles 2015) (Hopi 2009)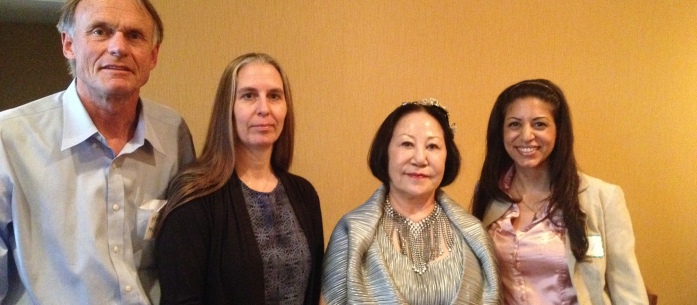 Photo above: Micheal Mcomber, Miriam Delicado, Princess Kaoru Nakamaru, Neena Dolwani. 
The following story is about Princess Kaoru Namakaru and Miriam Delicado meeting for the first time in 2009, and how after years of silence we came back together. This relationship and it's significance is far reaching and centers around UFO contact. Many of the details of those extraterrestrial encounters can be found on our websites, and in our books and interviews. (search google)
Both the Princess and myself agree that we are destined to work together in this life, as we both know we have in the past. We are very clear on our goals and objectives for peace in this world. We are also clear as to why we chose to be alive on the planet today and why we are being brought together again now.
WHY this story is important and how far reaching it is, and will be, is what makes it remarkable. The complete answer as to why will be understood as we begin to work together in the near future. For now, this story is my attempt to share some deeper insights into how remarkable life is and can be when we follow spirit. The meeting with Kaoru and I took place because of our Extraterrestrial contacts. Keep this in mind as you begin to read this story and see the future unfold with our work together.
For the sake of clarity I feel it is important to make reference to some of Kaoru's past announcements. There have been some statements that she made that I was not in agreement with. (The Princess's views on 2012 for example.) However, when it comes to our work together, we are 100% aligned and support each other's visions for the future in regard to humanity, the earth and all life upon it.
Princess Kaoru Nakamaru's history is fascinating and I would highly recommend you do some research into her. In the 90's she was a world class television interviewer. She was considered one of the best interviewers in the world at that time. Meeting political heads, world leaders, entertainment stars, religious leaders and other people of influence around the globe. What stands out in her work is her ability to meet and interview people that were unreachable. Kaoru has personally told me stories of meeting some of the more ruthless people in the world and how after she interviewed them she told them they needed to stop doing harm in the world. She is gentle, heart centered, compassionate, intelligent as well as strong willed, powerful and very direct. Her life changed after a UFO/ET encounter and she has been dedicated to a life of being in service ever since.
If you want to know more about her I highly recommend watching this interview: Kaoru Nakamaru interview by Harold Canner. Watch HERE.
www.nakamarukaoru.com  She has written over 90 books in Japan and has dedicated her life to the pursuit of Peace through her organization, Following the Sun.
This story begins in 2009, Laughlin Nevada, where I first met Princess Kaoru Nakamaru of Japan.
I was standing in the Vendors room when a woman who was traveling with the Princess came and introduced herself to me. She explained who the Princess was and informed me that she had requested a meeting with me.
About an hour later, this very graceful and soft spoken Japanese woman walked up to me and introduced herself. She told me her name was Princess Kaoru Nakamaru and with a warm smile she reached over to shake my hand. In that moment something amazing took place. A flash, a vision, so strong that it overwhelmed me and a waterfall of tears filled my eyes in an instant. It took my breath away. I have only had visions as strong as this a few times in my life. Each time, powerful, meaningful, accurate and impactful to my life.
What I saw was a vision of the heart of the Princess. What I saw, was flashes of the future where she was speaking to millions upon millions of people about peace for our planet. I saw that she would make an impact around the world for our future generations. This would be a result of her heart and devotion to peace. I also saw that we were together in this vision, standing side by side, as equals doing this work.
In this dramatic moment I also saw the past and this vision was also extremely powerful. Long ago both myself and the Princess were helping the planet at the time of the shift, just before massive destruction came to the earth. This vision was connected to what the Star Beings showed me in my 1988 contact when I was educated by the Tall Blond Extraterrestrials (Great Ancestors) in regard to the last world.  In this past life, we were both responsible for the people of the planet and helped to warn them of the impending dangers coming that would impact all life. This was just before the major earth changes took place. I also saw there was a great deal of technology on the planet that was also a threat to all life that existed not only on earth, but in all realities. For this reason I believe this was the time of Atlantis.
This was one of the most powerful initial meetings of my life. There have only been three moments for me that were as powerful. The first was meeting Hopi, the second meeting the Princess and the third was meeting the Dogon.
Lets go back to the day I met the Princess……
That evening we went for dinner together along with two other people that appeared to be friends with the Princess. During our short time together we spoke about our spiritual enlightenment process and how the awakening led both of us to the work we were doing for the planet and humanity. It was a wonderful first meeting.
The following day I was once again in the vendors room when I heard a message from the star beings I have contact with. "Go and listen to the speakers and stand at the back of the room." At times I will hear them as clearly as I hear others speak. When this happens, it usually means there is a very important reason. (I do not follow this blindly. As long as it is peaceful, positive and will not harm anyone or anything, I will often (but not always) follow what is being asked of me.)
As directed, I entered the conference room and stood near the water station at the back of the room. After five minutes of listening to the speaker, I wanted to leave, but the voice kept telling me to wait, be patient it said.
There I was waiting, but why? I asked myself. Out of the crowd of people I saw Princess Kaoru Nakamaru stand up and watched as she walked directly over to where I was standing by the water glasses. I said hello to her and we quickly started a conversation regarding Hopi. It was our mutual fate that brought us together and in this moment, our destiny was sealed.
Within five minutes, at the back of the room, we made arrangements to travel to Hopi. She told me that we would speak the next day to make arrangements and quickly she went back to her seat to listen to the rest of the presentation.
The following morning, the Princess informed me that both of her companions that were with her at this conference, tried to tell her not to speak with me, and not to travel with me to Hopi. We spoke about this for a few minutes and she informed me that she would still like to go with me to visit the Hopi people. She then told me that she had to travel back to Japan and would return a week later. I would then pick her up at the airport in Las Vegas and we would make the 5 hour drive to Hopi together.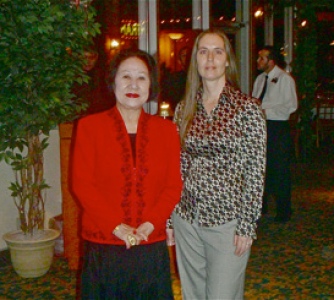 (LEFT) Princess Kaoru Nakamaru and Miriam Delicado. Photo taken the first day we met after the dinner meeting in Laughlin Nevada, 2009. 
One week after we met, I found myself standing at the baggage carousel waiting for the Princess to arrive from Japan. I was reflecting on how all my arrangements had been made the day after we met. I remember being in my hotel room the next day, making calls to my dear friend, confidant and supporter Sandra. (She wants to remain anonymous but I will call her Sandra for this story.)
We spoke for hours about what had transpired between the Princess and myself. It was after speaking with Sandra, I called Hopi.
This was a pivotal moment for me, for my relationship with Hopi, for the future and it was powerful. I made a few calls to Hopi and spoke to very specific people about the Princess and our meeting. I asked them for permission to bring her to Hopi to have them meet. After a short wait, they contacted me and gave me the permission I needed to bring her as a guest.
There I was, standing in Las Vegas, preparing myself mentally, spiritually and emotionally for the upcoming days.
After she arrived, the Princess and myself got into the rental car and began the drive to Hopi. We had time to talk with each other openly, with clarity and discuss how our experiences guided us to the work we were doing in the world. Most importantly we both spoke of how we knew we were spiritually tied to Hopi.
At one point during the drive, the Princess told me once again how the people at the conference she was with tried to do everything they could to stop her from traveling with me. This upset her very much and she was happy that she did not listen to them, rather, she listened to her own spirit and spiritual guidance.
We arrived in Hopi at around lunch time. I tried to reach several different people but no one was available. The Princess and I then went to a small store where she went inside alone to look for food and I used the pay phone outside trying to reach my contacts. While she was in the store, I asked through a prayer for all of the Hopi that I was trying to reach to come to the store so we could find them. To my surprise, about five minutes later, I turned around and several of them were walking towards me in a group. They were pleased we had arrived and asked me if the Princess was with me, to which I informed them she was.
Once the Princess came outside I introduced her to the men and we made arrangements to meet in a few hours.
After getting settled into the Hotel in Hopi we made our way to the meeting place. There were approximately a dozen men at this meeting. The names and positions of these men must remain private to be respectful. What I can say is that they were Traditional.
I opened the meeting by sharing with these men who the Princess was and why I thought it was important to bring her to Hopi to meet with them. The Princess then shared with them her spiritual awakening and why she felt it was important to come to Hopi and meet with them.
The meeting did not last a long time. The purpose of the journey was to make an initial introduction to each other.
The Princess and I stayed the night in Hopi and then began traveling back to Las Vegas the next morning.
Photo on the right: Princess Kaoru Nakamaru and Miriam Delicado. 2009 Hopi Land. We did not plan on wearing the same color of clothing that day, it was a good laugh for us throughout the day. 
On our journey back to the Las Vegas airport we spoke a great deal about the future of our individule work as well as what work we would one day do in the future together. We laughed and shared with each for the entire journey, moments that were special then, and will be, for the rest of my life.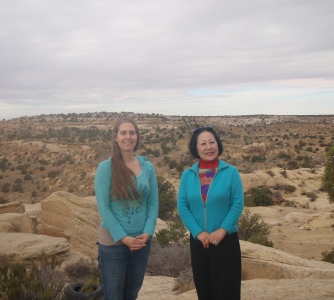 This journey also impacted Princess Kaoru Nakamaru as well. In the years to come she went on to write about me, Miriam Delicado, the Hopi, and our time together in several of the books she wrote and published in Japan.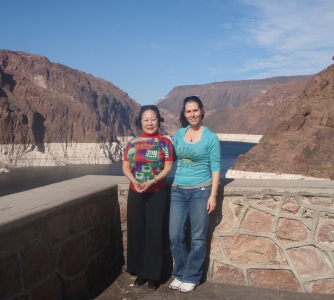 The Princess and I stopped several times along the way back to Las Vegas. In the photo on the left, we are taking a break at Hoover Dam. 
We stayed in touch through emails and a few phone calls in the coming months, reaffirming our time together was destined and tied together.
Although the Princess and myself did not speak or have any direct communication for years, we both always knew that one day we would come back together again.
In November of 2014, I received a skype call from the Princess, it was almost four years since we spoke last. In March of 2011 we communicated regarding the Earthquake in Japan and organized a prayer we would do together. After this, we had a long time of silence until this call came this past November.
I knew one day, the Princess would contact me when all the criteria for our work would fall into place and we would begin our unified work together.
Below is a photo of our time together in Los Angeles in 2015 when we met with Kerry Cassidy of Project Camelot.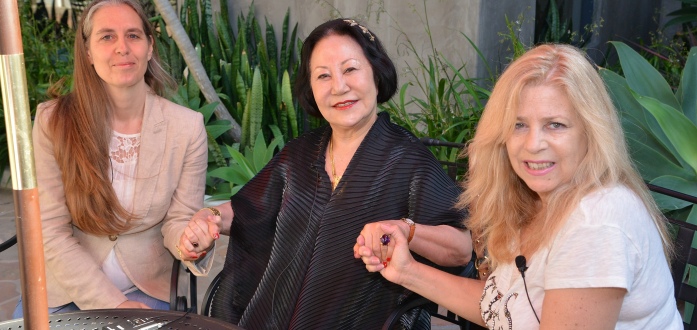 Let's back up for a moment to just before the Princess called me…….
Four years had passed since the last time I heard from the Princess. I was in Colombia, South America, doing some work with the Mamos (Indigenous people of the region). Around this time, there were many moments that were manifesting miracles. These miracles in the last few months made it very clear there was a cycle that was repeating in the Universe itself. This cycle was allowing for certain people and groups that were meant to do work together to reconnect in profound ways. (This is a very long detailed story that may be told another time.)
I remember being in Bogota, the Capital City of Colombia, after weeks of being in the Mountains with the Mamos and being overwhelmed by the remarkable opportunities that were presenting themselves again after a four years of silence. It was then I knew, and told my travel partner that it was time for the Princess to contact me again. It would only be a matter of weeks I thought and she will email or call me.
Six weeks later…….. after no contact for four years……. my skype began to ring and there on my computer screen was her name, Kaoru Nakamaru calling. I took a deep breath in, releasing my breath to send gratitude for another moment of divinity entering my life.
November 15th, 2015 the call came in and lasted a total of 12 minutes. It was a pivotal life changing moment. The Princess was calling to say that things were almost in place for us to start our work together. She asked me if I was ready to begin working with the world to support a peaceful positive change on the planet. Of course I was ready! For the past four years I had been building a nonprofit, The Great Gathering, in preparation for the work and for the world.
Even though we spoke for such a short time, we completely understood that from that point forward we would begin making plans for the future together. Our destinies tied together as it had been in the past.
Over the next several months we stayed in touch and spoke on skype several times. We were updating each other with developments as to how and when we may be able to make plans for the future.
In March of 2015 I received a message from the Princess telling me she would be in the USA for a conference and asked me to meet her in Los Angeles.
Immediately, I called a friend and asked if they could sponsor me to travel. Within an hour of receiving the message I was booked on a flight to LA and had a hotel room. It was not until the next day I spoke directly to Kaoru, informing her we would meet at the airport in LA where I would pick her up and take her to her hotel.
The date was March 25th and I was once again standing at an airport awaiting the arrival of the Princess. Just as it was in the past it was one week after making arrangements to meet. Also, it was four years since we met and I could clearly see a pattern unfolding once again. (This is in reference to other meetings that will be shared at a later date.)
When I first saw Kaoru, my heart jumped with excitement and when she saw me, her eyes lit up like the sun and we both smiled from ear to ear. She let go of her baggage carrier and it went rolling away as we hugged and held each other like long lost family returned. It was a beautiful moment. I kept touching her saying, your real, your here as we both verbalized how happy we were to see each other again!
From the airport my friend took us to the hotel where the conference was being held. The Princess retired to her room to rest and we would meet later for dinner.
A few hours later, the Princess and I walked from the Hotel to a restaurant down the street. It was remarkable how we deeply we connected with each other when we first met and then traveled to Hopi together. Now, here we were sitting across from each other once again. The moment of our destiny beginning to unfold.
In a short few hours we shared more than most people in the same time frame. We spoke of our past travels, the Hopi, Indigenous issues, building world communities, the great gathering, public speaking, the star beings, our challenges in life, our visions, the future and much more.
By the end of the two hour dinner meeting it felt like we planned the rest of our lives together and it was clear we were allowing for our destiny to unfold. As we walked together on the street, just before we got back to the hotel, I looked at the Princess and shared how she was the only one on the planet that I knew understood my vision, passion, life dream and dedication to humanity and the earth completely. As if we were one person, not two. She looked at me and with a soft but strong look in her eyes and confirmed she felt the same way. She said, "We trust each other 100%." and i agreed with her.
In some ways I felt that everything that needed to be said or done was completed that night until the next phase of our work, connection and lives would begin.
Below are photos of Princess Kaoru and myself taken throughout the week of the conference. 
For the next few days at the Conference the Princess and I had time to sit together several times to build upon our conversation from our dinner meeting the first night we met. We also met with a few other people, people such as Kerry Cassidy from Project Camelot. 
Kerry, myself, the Princess and a small group of people met for lunch one day after the conference ended and Kerry was kind enough to interview us. It was a very nice meeting and I was very happy to speak with Kerry for the first time in years! ( I have been rather quiet for a couple of years and am now coming forward to the public once again.)
Below is the interview with Kerry Cassidy, Miriam Delicado and Princess Kaoru Nakamaru, March 2015. (This was edited by the Princess and you may see in this video some of the people she has interviewed in the past.) Thank you Kerry and Kaoru for making this possible!
After the wonderful meeting and interview with the Princess we went to a nearby park to connect with nature. It was the perfect end to the week!
While we were there, the Princess shared with us how she pulls purple and then gold light from the sun to manifest through a prayer using her hand movements and how this strengthens this energy on earth.  I found this interesting, as may cultures use hand movement to work with energy of different kinds. We all stood together and I chose to close my eyes and allowed for this energy to enter into my being. (Below are photos.)
As some of you know, everywhere I travel on the planet I touch the earth with my had to give thanks for everything that is provided for in this life. At the park during the process of Kaoru bringing the purple and then the gold light with Kaoru, I saw flashes of these colors while my eyes were closed. It was actually very intense and I was even a bit surprised by it.
After Kaoru finished bringing down this light, I then walked over to the grass to 'touch the earth'. The cameraman with her began taking photos as I walked towards the grass. (Please take a moment to view the photos below. They speak for themselves.)
The following day, the Princess returned to Japan and we have been in contact ever since. We are now both waiting for the next steps in our destiny to unfold, at which time, we will begin working around the world together.
I look forward to sharing more with you regarding our time together and our work in the future.
Thank you for taking the time to be here on this website and learn more about my life experiences. There is much more that is taking place in life than that which first meets the eye and my goal is to share with you some of the more extraordinary moments in my life, so you may see and experience your own.
With gratitude to everyone who makes this work possible! There is a great deal happening now and in preparation for a collective unified effort to hold the balance in this world for our collective future. I am honored to support and work towards this goal.
With gratitude,
Miriam
The photos below speak for themselves. Please have a look.