UFO Sighting by Miriam Delicado Jan 2015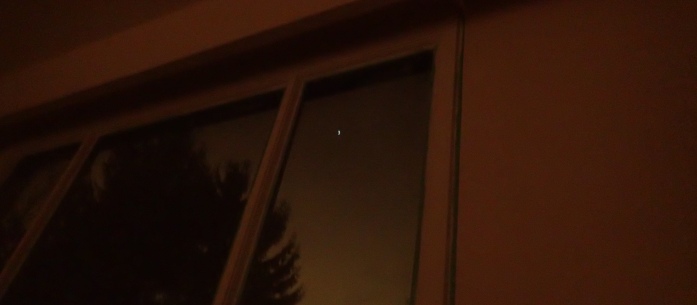 Jan 27th I went to sleep with a strange feeling. It was as though I could FEEL the beings watching me, or were close by somehow. In the past when I have this kind of feeling …. I will have a sighting of some kind.
Being alone in my sister's home I stayed awake late watching a movie and then went to sleep. ( I was asleep on her living room floor.) 
From a very deep sleep I suddenly woke up and sat straight up in my bed and looked DIRECTLY out the window to where I saw an object in the sky.
I was wide awake looking at a UFO! My camera happened to be at my bedside so I quickly picked it up and took a few photos.
I listened for a message. (I always suggest people to do in this type of situation.)
It was like someone was sitting next to me and was standing in the room near the door but I saw nothing, only feeling a presence.
They said; "We are here with you and want you to know that we are always with you."
This encounter was very calming and I had no fear at all. They told me a few other more personal messages after which I lay back down and fell asleep again as quickly as I woke.
They come to me at Key moments in my work and this moment in time is no different. I have been working for years on things that are only now beginning to have impact and strength. Some very powerful dreams and visions have been coming to me recently as well so I KNOW, now that they have come, that the next steps of work are important…. for all of us.
Below I am sharing with you the photos just as I took them and then the ones to the right are slightly blown up.
There is NO WAY it was a star. Too low, too bright and not a clear enough night to see ANY star.
While I watched this object in the sky I did ask it to move so I would know it was them. It did not move its location but it DID get brighter and then lower its brightness for me twice.
You decide….. enjoy the photos.
Miriam Delicado
The photos on the left correspond to the photos on the right after they were blown up to see them better.